Winter White Is Here
As we are quickly approaching the party season of the year we are seeing patients taking a closer look at ways of improving their appearance of their smiles. Even the smallest most minimal changes can result in a stunning transformation. And the good news is it does not need to break your budget! Here at Dental Excellence Ireland we offer a number of options to whiten your smile and improve the appearance of your teeth in relatively simple ways.
Tooth Whitening
Many people are now looking to whiten their teeth even by just by a shade. I have noticed that many of our patients have reported that even their confidence has improved and they feel that they can smile properly again after our custom made bleaching system has done its work! It is so important to have confidence in your smile, not just socially but in work too. We have different systems of whitening available here at Dental Excellence Ireland to whiten teeth depending on the patient's requirements and existing colour of the teeth.
We always start with a deep clean as any calculus build up on the teeth will prevent the whitening product from reaching it's maximum effect, even this treatment can make a positive difference by removing staining that is lying on the surface of the teeth.
It is important to be careful when it comes to bleaching as there are many products on the market supplied by non-dentally qualified companies. An inferior product may either be too weak and not make any difference to the colour of your teeth and be a waste of your money OR be too strong and burn your gums. Be careful as you only get one set of teeth for your adult life.
We use a system that seeks to minimize the sensitivity so often associated with tooth whitening and have a variety of strengths of product that we prescribe depending on the patients own needs and the condition of their teeth.
It is amazing to see the subtle but remarkable transformation just having a few old grey or stained fillings replaced with new high-grade white filling material. We use a material that is considered by many of the top cosmetic dental institutions to be the most superior available.
And it doesn't have to be costly to have this cosmetic improvement. Some of our patients only want a few old, grotty, stained white fillings replaced or existing old metal fillings replaced to improve their smile rather than a complex smile makeover. Sometimes it is the smallest of changes that can result in the most beautiful results.
Silver metal fillings replaced with barely-there white fillings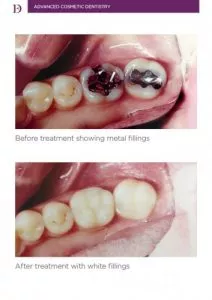 Old Metal Fillings
New white filling blended in.
Smile makeovers do not have to be complicated, uncomfortable or expensive either. Sometimes a small change is all it takes! An examination is always essential before undergoing any dental work to ensure the treatment is the best option for you and ensure your teeth are healthy. Give us a call here at Dental Excellence Ireland we are always glad to help.
Why not have a FREE COSMETIC CONSULTATION and see what may be available for you.