Graham
My overall experience was excellent. I have a real fear of the dentist and they made me feel relaxed and at ease.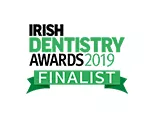 Many of the images and videos used throughout our website were taken and produced before the COVID-19 outbreak. Therefore, social distancing rules and extra levels of PPE are not represented across all visuals.
Head Office: No.10, Pembroke Place, Ballsbridge, Dublin, D04 V1W6
Registered in Ireland. Registered Number 391309. Registered Address: 1st Floor, 9 Exchange Place, I.F.S.C. Dublin 1, D01 X8H2
Xeon Dental Services Limited, Mark Allan (British), Jake Wright (British), Sarah Ramage (British), Zara Doyle (Irish), Gavin Beasley (Irish).


© Dental Excellence. All rights reserved