Graham
My overall experience was excellent. I have a real fear of the dentist and they made me feel relaxed and at ease.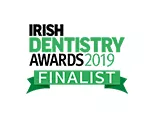 Dental Excellence Athlone is a trading name of Xeon Dental Services Limited.
Registered in Ireland. Registered number 391309.
Registered address: St Martins House, Waterloo Road, Ballsbridge, Dublin 4, Ireland.
Directors: Mark Allan – British, Gavin Beasley - Irish.

© Dental Excellence. All rights reserved