To anyone reading this, sitting on the fence, maybe you're nervous or scared like I was, don't be. I was worried there was nothing they could do but I got 8 veneers and some hygienist appointments and now I've got a nice smile! And I hardly felt a thing. Go and talk to Dr Hussain. The man's amazing. You can trust him. He can help you!

Brendan
We have a unique approach to counteract any fear people may have of dental treatments. We care about providing exceptional customer service, and most of all we care about the wellbeing and happiness of all of our patients. Our Dentists are registered a Phobic dentists so they are experts in the techniques of delivering dentistry in a way that will help you cope with the visit, while all of our staff from our reception team to our oral surgeons are experienced in dealing with anxious/nervous patients.
Our dental team employ a wide range of relaxation techniques to help calm patients' nerves. For those with dental phobia or who are still nervous, we also offer treatment under sedation. Our sedation techniques ensure that you feel relaxed in a comfortable environment. We listen to your individual needs, and our trained experts go at your pace, making sure you feel safe and in control at all times.
Many people are put off by the sights, sounds and smells of the dental surgery. Here are some of the ways we can help you relax: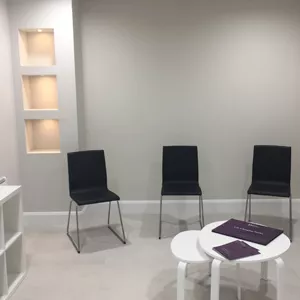 Sights
Our practices are designed to resemble health spas more than traditional dental surgeries. You can watch your favourite film or TV series on DVD while having treatment.
Sounds
All of our practices have relaxing background music. You can also choose to listen to music or your favourite radio show or podcast while having treatment. We also offer noise-cancelling headphones to drown out the sounds of the surgery.
Smells
We have oil-burning scents throughout our practices to enhance the pleasure of your visit.
Going at your pace and listening to your needs
At Dental Excellence we like to take our time with our patients, no one is rushed, and everything is done at the pace of the patient and not the dentist. We will always listen to all your concerns and fears, and will take them seriously. Don't be afraid to ask questions, or to ask for a break in treatment if you need to rest.