Irish Dentistry Awards
We are so proud and honoured to be finalists in the prestigious Irish Dentistry Awards for Best New Practice and Most Attractive practice.   This is a first for Dental practices in Athlone and the Midlands.
Our Journey so far….
The aim of our new practice was to introduce something innovative and positive to the region and we felt that Dental Excellence in Athlone Ireland has accomplished exactly that and much more.
In Athlone we were aware that there was a lack of certain dental facilities,with patients travelling long distances for specific treatments.
It took a lot of hard work, sleepless nights and  investment to renovate two dilapidated shopping units in the heart of the town. The end result has surpassed our expectations, with the creation of a stunning glass-fronted, minimalistic practice which feels more like a luxury spa than a dental practice.
Patients are welcomed in a light and airy reception area,complete with ceramic flooring, plasma screens, contemporary furnishings and most importantly a friendly smile!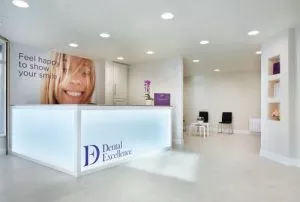 The fifteen months spent planning the project, employing consultants (who had previously worked on spa hotels) and finding an appropriate site, were stressful times.
We were aware that patients and members of the dental community would need to travel to the practice, so a central location was paramount. We are opposite the largest shopping centre in Athlone where ample car parking facilities are available
We always put the patient experience first.
We have created an inspirational practice which is architecturally planned to perfection in its layout for the patient now.
The ability to use it for educational meetings, private waiting areas, multiple treatment rooms and a lecture space which flow naturally into each-other and yet provide a sense of calmness.
Through this facility we are able to serve the community in a positive
and professional manner. Our FREE CONSULTATION services for cosmetic dentistry have been introduced to enable patients to come and visit for a no obligation appointment. With this in mind we are hoping to encourage dental phobics, nervous patients and non-attenders to take ownership of their dental health and maybe create the smile that they always dreamed off and never thought possible.
With the investment of a  CBCT scanner  (3D SCANNER) we have eliminated the necessity for patients to travel outside the area for advanced dental treatment.
We always go the extra mile for our patients and every need is uniquely catered for.
For example we have created a treatment pathway for anxious patients which allows them to visit and chat with a member of our team regarding their worries. This all occurs in a non clinical environment – we believe understanding their concerns is 90% of the treatment completed!
We are delighted with the impact we have made in the area since opening  and with the wonderful welcome and appreciation we have received from local people and businesses has been overwhelming.
We are often asked how we have managed to achieve so much so quickly. In summary we feel we offer a unique addition to the local area – our look, our approach, our patient experience; along with a motivated, well trained team to be able to go beyond the regular duty of care sets us apart.